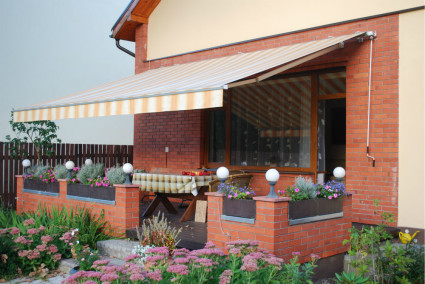 Multifunction awnings - for shading windows from the sun and the rain
We offer custom made awnings for companies and individual homes.
Awnings for businesses
Easily adjustable awnings - sunshades that will protect the windows of your business from direct sunlight on sunny days, so you would any customer passing by because your beautifully decorated store window doesn't fulfil its function.
We produce sunshades or awnings for restaurants and cafes that will protect your guests from direct sunlight or sudden rainfall.
Awnings for private homes
We'll create an awning or sunshade for your private terrace which will compliment the overall design of your house. This way you will have a simple and easy to use multi-purpose shelter.
Sunshade design and functionality
Awnings can be rolled up like roller blinds and they are made from specially impregnated acrylic or polyester fabric, which is available in a variety of colors - single-color or striped.
Awnings are controlled with a knob, ribbon or motorised with a remote control or switch.