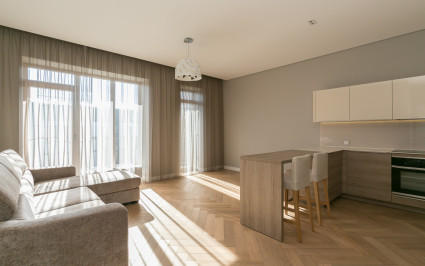 Match you sitting room curtains with the interior of your home.
Classic interior will benefit from the curtains made of the following materials:
 velvet;
 silk
 taffeta;
 tulle;
 organza,
 various tapestry fabrics padded on a lining and held up by decorative braids or tassels.
Curtains from such fabrics go well with various folds, drapes and valances.

In a modern interior, the sitting room curtains are usually made from lightly falling fabrics, mostly plain with distinct surface pattern or sometimes also printed fabrics:
 polyester,
 rayon,
 linen,
 cotton,
 tulle,
 organza.
In the case of modern interior textiles, the emphasis is made on colours and texture of the fabric.
Curtains can also be combined with blinds of various styles to further advance your sitting room interior, for example:
 Roman,
 French or Austrian,
 Horizontal wooden blinds.
Such blinds can also be custom made from the fabric of the same colour, in darker or lighter shade leading to exquisite play of colours organically fitting into the interior. Wooden blinds can be successfully used to achieve unbroken rhythm of lines.
Therefore. curtains can serve as an excellent highlight to your seating room or, to the contrary, rather neutral curtains can serve just for their functional purpose – protection from the sunlight, curious looks of neighbours or passers-by, along with providing a backdrop for the interior of your sitting room.
The designer of Aizkarudizains.lv will listen to your wishes and will offer contemporary solutions to suit your needs.