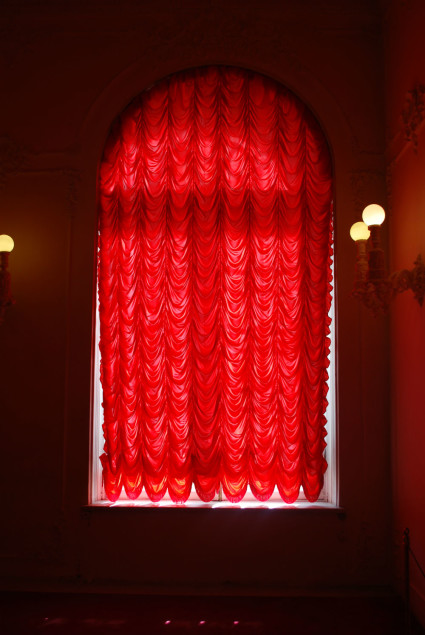 Gorgeous blinds for a very romantic and luxurious interior.
French blinds, unlike Austrian blinds, are folded all the way from bottom to top. They look very rich, romantic and ornamental.
French blinds consist of a lifting mechanism and the blinds itself, which is attached to the mechanism.
Fabric choice for French blinds
French blinds can be made from thin and light fabric such as tulle, think linen etc., the fabric should be soft and cascading, therefore organza is not the best choice for French blinds. French blinds cannot be manufactured from thick curtain fabric, as the fabric must be folded 1:3, thus, making the blind very heavy and impossible to move. French blinds can be used in combination with curtains.
Solutions for French blinds
French blinds in the bedroom
French blinds are more commonly used in bedrooms to create an especially romantic mood. They are made from a thin curtain fabric in a color suited to the interior of the room, for example, red, brown, purple or white, with matching thick curtains.
This creates a romantic and subtle effect, preventing glaring sunlight from entering the room while the thick curtains fulfil their function during the night.
French blinds for luxurious rooms
French blinds are often used for a variety of luxurious spaces, for example, guest rooms, rooms in castles, manors etc. where they are both functional and decorative.
French blinds for non-standard windows
French blinds may be used for tall windows stretching across two floors up to 3-5m in height.

A selection of our realized projects
Contact us to arrange meeting with our designer and to start working
on designing your new blinds.

Which blinds to choose?
You will say – that's just a matter of taste. That's right! We will only offer our professional views, ideas and experience.