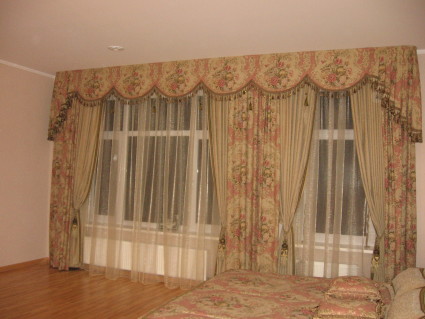 Black-out curtains are among the most functional curtains. Their design depends on the interior of the room, your wishes, specifics dictated by the qualities of the space.
 Shading the room – depending on the location of the room, it will get either morning, evening or daylight sun, therefore, high quality black-out curtains will help you to get better sleep or to relax, protect against direct sunlight if you are working on your computer or watching TV during the day.
 Absorbing sounds – black-out curtains made from firm and thick fabric will absorb noises.
 Regulating temperature – thick curtains will certainly keep the room cooler in summers and block the cold in winters.
Black-out curtains with lining
We recommend selecting black-out curtains with lining, as they certainly provide more benefits – they will be much better in shading the room, protecting it from overheating, and the lining will also protect the curtains from discolouring, if the room receives large share of daily sunshine.
Decorative functions of black-out curtains
Available range of fabrics and techniques offer extensive design opportunities – the black-out curtains can be ascetic and functional, they can also become the highlight in the room. One of the options is to make the black-out curtain immobile – held-up and permanently open, just to serve as an addition to the lighter daytime curtains.
If the upper part of the window is covered by decorative elements, for example, frills or valances, it is recommended to keep the long side curtains still in order to avoid distorting folds.
Black-out curtains as a decorative element
Black-out curtains can be used also as a decorative element in doorways, to separate rooms or in a room to separate different areas, for example, in restaurants, beauty parlours, SPAs, etc. The fabric of the curtains can be used also to make pillows, tablecloths, serviettes, and decorative blankets.
Alternatives to black-out curtains
Roman curtains, Austrian, French roll-up curtains (blinds) can elegantly replace black-out curtains. Lining can be added to any curtains or blinds as well. Roman, Austrian or French curtains (blinds) go very well with lighter or daytime curtains. They can be fixed in various ways, on a separate curtain pole above and below the roll-up curtains (blinds).
 Individual design of black-out curtains
Do you require black-out curtains in your house or office? Please, contact us! Our designer will come to your site to survey the premises, listen to your wishes and ideas, and offer you contemporary, high quality solutions for your interior.
As soon as the ordered curtains are ready, we will come to install them using the curtain poles or other fixture solutions and accessories selected by you.