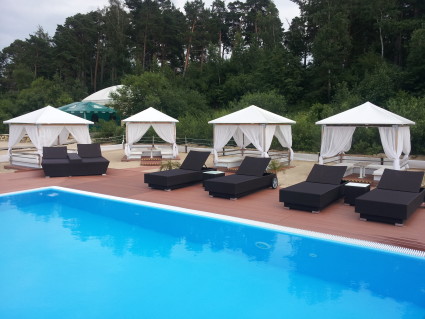 Curtains for restaurants, curtains for cafés.
We design elegant curtains to compliment the interior of your restaurant or café. We can develop a unique design or follow the ideas and instructions of your interior designers.
We have been designing curtains of various styles starting from classic curtains for the restaurant in a castle to modern restaurants and summer terrace on Jūrmala beach.
Other interior elements
In addition to curtains, we offer other functional interior elements.
 Curtains separating various areas of a restaurant or two halls, serving as a decorative and movable partition.
 Curtains by the entrance doors. If there is just one entrance to your restaurant, such curtains can protect your guests from the flow of cold air in the winter, which comes as the entrance door is being opened and closed. Such curtains will also help you to save on heat losses. Such curtains are especially popular in French and Belgian restaurants.
 Curtains as a design element. Curtains as a design element can be used on the walls, where there are no actual windows – they will look exclusive and modern.
 Curtain elements at the ceiling. In order to create a special feel in a room, ceilings also can be decorated with curtains.