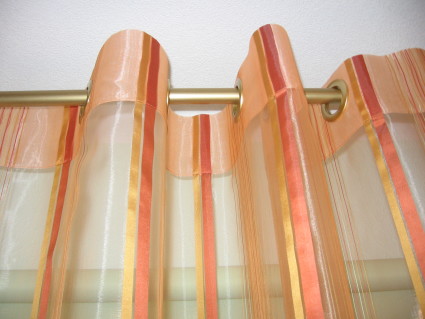 Curtains with stud rings can be hung in single or in double:
 curtains with stud rings can be hung on the front;
 the second curtain can be hung on a track.
From the design point of view, medium-thick curtains with stud rings will look best in a single line. Rings serve as an additional design element. Curtains with rings can be arranged on the curtain pole and then folded according to the designer's intent.
Range of available ring colours is very wide. They can be matched to the curtain fabric, colour of curtain pole or other elements of the interior.
Curtain design
Create your own individual curtain design with stud rings! Our designer will help you in selection of curtain fabric and colour, colour of the rings and the curtain pole. Our specialists will make the curtains in the required size, will punch in the stud rings and install your new curtains.