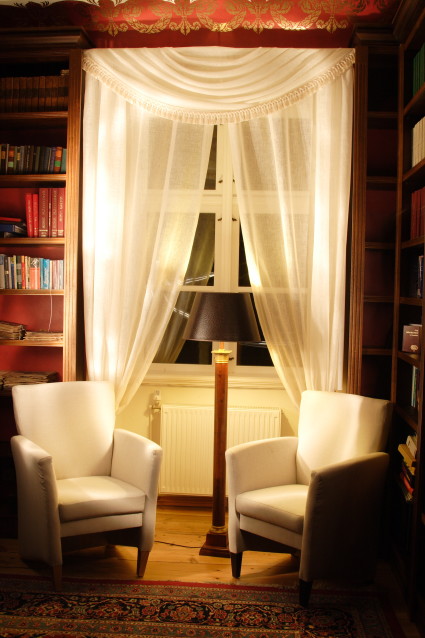 Curtains for hotels, rehabs, guest houses, manors, mansions and castles.
We have been creating curtains for hotels, rehabs, guest houses and castles as custom made individual orders, considering the individual style of every room and overall feel you are striving to create. Matching curtains can add a special character to the room.
Curtains for various atmospheres and purposes in hotels and guest houses
A feeling created by the curtains in any room defines how the people will feel in it, if they stay there for shorter of longer periods of time.
 Light, airy, flowing curtains will add romantic touch to the room. Warm breeze lightly swinging the curtains will add some mystery and even mystical feel to the room.
 Thicker and more luxurious curtains will make the room majestic and elegant, add a feeling of fine and even royal richness which is perfectly suitable for luxury rooms of hotels or guest houses, where more extravagant feeling must be created in comparison to other rooms.
 Extravagant, contemporary or completely extraordinary style in a room can be achieved by curtains of special fabric and details or by combination of curtains and blinds of various fabrics.
 Curtains can help to highlight scenery outside the window or on a contrary – hide it from the view. The scenery behind the hotel or guest house windows can be different – one to be emphasised and other way around, one that needs to be hidden from the view. Therefore, to make the stay of your guests more pleasant, the curtains should be chosen so as to match the requirements of both sides of the building. This means that you could go wrong by ordering the same curtains for all rooms in the building.
Very thick black-out curtains for spa hotels and guest houses
We are offering thick curtains with potential of creating complete black-out in the room even on the sunniest of the days. Such curtains will be highly appreciated by guests of spa hotels and guest houses, as well as of rehab institutions often willing to enjoy some siesta.
Individual curtain design
We have an extensive experience in creation of various curtains in this area. We have made curtains for Kukšu manor, various hotels, Ķekava Social Care Centre, Clinical Children's University Hospital on Vienības gatve, Clinical Children's University Hospital in Gaiļezers etc.
We will help you to create functional curtains, matching the desired atmosphere of your hotel, manor or guest house, which will allow the guests to enjoy their stay even more.
We can create a unique design or we can develop curtains in line with overall trends and styles of your envisaged interiors.