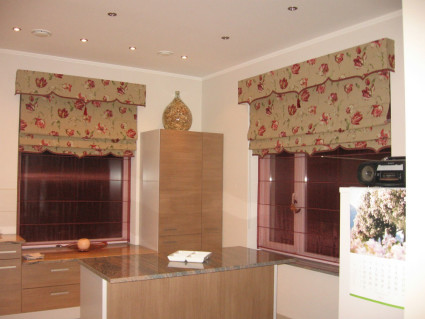 Interesting and practical solution for modern interiors.
Roman blinds are lifted upwards and might even be called lifted curtains, as they are most often manufactured from curtain material. The main advantage of Roman blinds is the extensive selection of fabric, so the design possibilities are almost unlimited.
They are also easy to use, easy to lift, lower and wash. They look elegant and save space in smaller rooms. For these reasons, the Roman blinds are leaders among other types of blinds and become more and more popular in today's interiors.
Roman blinds provide a wide range of solutions
Combination with curtains
Roman blinds can be used instead of both the thin (day) and the thick (night) curtains when thick curtains are hung in front. This helps save space in the room and add an airy, easy feel to it.
Combination with other blinds
Interesting interior solutions can be created by combining the Roman blinds with a roller, roller cassette or horizontal blinds.
Fabric choice for Roman blinds
Roman blinds (fabric blinds) can be made from thin curtain fabric (tulle, organza) or any thick curtain fabric. Solid colors will create a very austere and simple look while patterned fabrics will add an accent to the room.
Roman blinds will complement the interior even more organically if other interior elements are matching - for example, canopies, bed covers, decorative pillows etc.
The fabric choice also has the practical aspect. Roman blinds provide privacy - they keep away the prying eyes and help adjust the amount of daylight. With Roman blinds, you can adjust the light depending on the height and thickness of the fabric and on how high the blinds are raised. Thinner fabric will still keep you from hot and glaring sunlight, but the fabric may be thicker as well and even have a lining.
For which rooms are Roman blinds suitable?
Roman blinds look great in almost any room and interior if the texture and color of the fabric match the overall interior.
They will look great in the living room, bedroom, nursery, kitchen, office, larger bathroom etc.
Fitting options for Roman blinds
Roman blinds can be fitted in the window box, to the fall and to the ceiling. The type and place of fitting depend on various elements and factors, for example, are there additional thin or thick curtains, the size of the room, the height of the ceiling and the size of the windows etc.
These blinds can also be fitted with an electric mechanism, so they could be raised with a switch or a remote control. A great solution for a "smart house".
Traditional Roman blinds can be raised with a cord or chain and fixed at any height allowing adjusting the amount of light in the room or preventing too much direct sunlight.