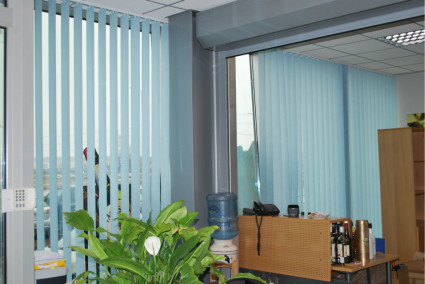 Vertical blind design options
Available in many different materials and colors. White vertical blinds are more traditional, but they can be manufactured in a variety of colors and patterns.
The maximum width of the vertical blinds is 5.80 m, but height is 5.00 m. The strip width is 89 and 127 mm.
Vertical blinds have four opening variations:
vertical blinds that open to the right;
vertical blinds that open to the left;
vertical blinds that open to both sides;
vertical blinds that open from both sides to the middle.
The control chain can be on the right and the left side, it is also possible to fit an electronic mechanism, which will allow opening and closing the blinds with a remote control.
Fitting of vertical blinds
Vertical blinds can be fitted to the ceiling, wall or window box. They can also be fitted to slanted windows.
A selection of our realized projects

Contact us to arrange meeting with our designer and to start working
on designing your new blinds.

Which blinds to choose?
You will say – that's just a matter of taste. That's right! We will only offer our professional views, ideas and experience.