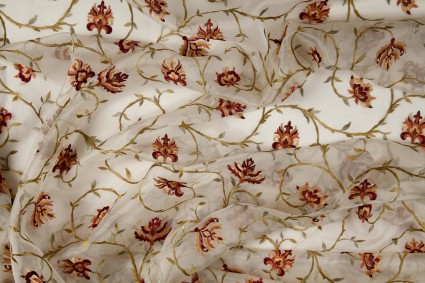 Looking for classic and elegant floral pattern curtains? All you have to do is to select your favorite ones. We offer wide range of curtain fabrics with floral prints of various colours and sizes.
Bestselling floral pattern curtain fabrics
Decorative night curtain fabrics
With printed or embroidered floral motives they will add romantic touch to your space.
Silk fabrics with floral patterns
Delicate, elegant and natural material will add highly elegant feel to your interior. For practical reasons we would recommend adding of lining to the silk curtains – easier cleaning, extended useful life, as well as lower penetration of light and lower exposure to discolouring of silk fabric in the sun.
Various light day curtain fabrics with floral designs
Light transmission rate of for example organza, tulle, thin linen curtain fabrics is about 70–90%. When fabric is covered by larger prints, the light transmission rate decreases to around 70%. Such curtain fabrics will provide a very decorative feature in both – traditional curtains and Roman blinds. Organza curtain fabrics with floral patterns are available in shiny and mat versions.
Gobelin curtain fabrics with floral patterns
Gobelin curtain fabrics will bring elegance to your space, while the floral motives will add romantic touch. Such curtains will block sounds, light and heat. Considering all of their features, the gobelin curtains will be better suited for representative premises, as well as spaces with high ceilings.
Gobelin curtains require lining.
Individual design of curtains
Every curtain design features certain specific issues and sometimes our clients start with selection of their preferred curtain fabric and only then we follow on to design development, considering of fixtures, opening modes and other nuances. This often happens with floral pattern curtains.
Our design professional will offer elegant, tailor made solutions for your new floral pattern curtains.