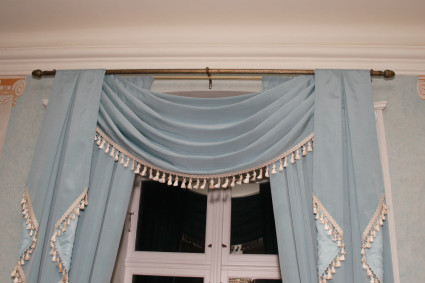 Pelmets, valances and lambrequins can be, quite literally, the crowning glory of a curtain arangement. Positioned at the top of the window, they fit neatly over curtain headings, entirely concealing from sight any tracks or fitting mechanism.Pelmets are usually made of wood or a stiffening material such as buckram. Usually they are covered in fabric, but wooden ones may be painted. Valances are made entirely of fabric (which may be lined and interlined).
Lambrequins, which are rather like elaborate, extended pelmets reaching far down each side of the window, have to be made of wood to retain their boxed shape; seti n front of the curtains, they enclose a large proportion of the window itself. All three have the effect of defining the curtain arrangement and linking it with the architectural lines of the window. As well as serving a visual purpose, they can help to eliminate draughts.
Valences create a softer effect than pelmets. The heading can be any of those already described for curtains – perhaps a French pleat heading for tall, elegant Windows, or a softer, gathered heading for less formal arrangements. A valance can be attached to the edge of a timber board positioned like a shelf above the curtain track: indeed, the track is often fitted to the underside of this board.
Alternatively, the valance may be hung from a special valance track hooded onto the main curtain track. Slot or casement headings can be fitted over a curved valance track, specially designed to Project forward from the curtain.
Pelmets are especially useful as a window that has a distinctive shape. For example, Gothic Windows take shaped pelmets very vell. Not least of the advantages of a shaped pelmet or valance is that it allows you to conceal a straight curtain track to create a more interesting effect.
Lambrequins are upper decorative part of curtains. Lambrequins perform a purely decorative function. Lambrequins are stationary and designed to embellish your curtains, make them look luxurious, or often lambrequins attribute to final appearance and sense of completeness. Lambrequins can be shaped both hard and straight, they can be with various cuts, as well as soft and falling in ruffles.