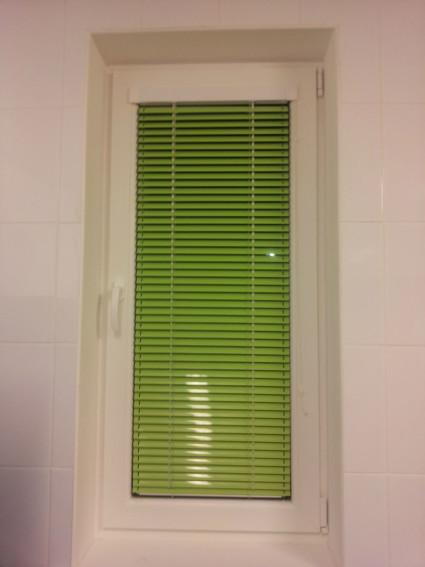 Simple, economical and practical solution.
Horizontal blinds are practical, stable and safe. They can easily be adjusted, thus providing the desired lighting and direction of the incoming light. They are simple and quick to install. Suitable mainly for offices, work and training spaces, as well as bathroom and kitchen due to their fire and water resistance.
Installation of horizontal aluminium blinds
Horizontal aluminium blinds can be installed in the window box, at the wall, the window frame or the ceiling.
Horizontal blind design options
Horizontal aluminium blinds are divided into two types-horizontal blinds for regular windows and horizontal blinds for double pane windows. They consist of pieces of aluminium tape or strips that are 2.5cm wide and very thin (~0.20mm).
Horizontal aluminium blinds are available in a variety of colors. You can easily match them to the interior of the room or select the classic - white or silver - aluminum blinds.
Advantages of horizontal aluminium blind
A broad variety of non-fading colors.
They are fireproof and splashproof.
Horizontal blinds can be lowered or raised to the desired height and fixed at this height.
It is possible to adjust to allow light, but not the direct glare of the sun to enter the room.
They can be adjusted to such an angle, that it is possible to look outside, but keep the room hidden from the eyes of the passers-by.
Easy to clean with a wet cloth, vacuum cleaner or duster.