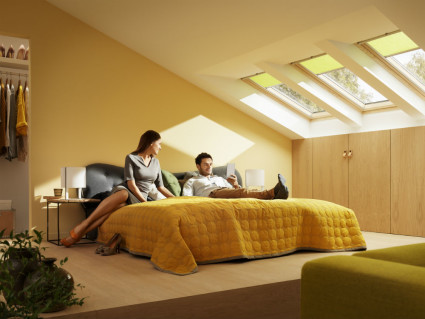 Functional blinds specially designed for roof windows.
We offer a variety of blinds for VELUX roof windows - roller, horizontal, opaque, folded, as well as VELUX insect nets. They are quick and easy to set up and are available in wide range of colors and patterns.
Select the most suitable blinds for the design of your roof floor design, type and size of the windows.
VELUX opaque blinds DKL
VELUX opaque blinds will allow darkening the room completely - they are perfect for the nursery or your bedroom to ensure undisturbed and healthy sleep. VELUX opaque blinds can be easily and quickly installed on any VELUX window. They can be simply opened and shut in any state. VELUX offers a durable fabric with a wide range of colors and patterns, these colors will remain bright and attractive for many years.
Perfect sleep in a completely darkened room:
Completely darkened
Can be fitted as required
24 different colors and designs
12 exciting designs from VELUX & Disney Dream collection.
VELUX opaque blinds DKL are made from opaque fabric which provides complete darkness at any time of the day. It is ideal for bedrooms that need full control of the light, to ensure a good night's sleep or a healthy nap during the day.
VELUX opaque duo blinds DFD
Two in one: darkening and light control.
Two blinds in one
Complete darkening at any hour of the day
Gently distributes incoming daylight
VELUX opaque duo blinds consist of opaque blind and folded blind combined into one product. It offers the best of both worlds: complete darkness at any hour of the day and mildly distributed natural light all day long. It is available in all the shades of opaque blinds with white folded blind.
VELUX horizontal blinds PAL
VELUX horizontal blinds combine classic style and simplicity and ensure the desired amount of natural light while protecting from prying eyes. They are easy to install and perfect for any VELUX skylight window. Our high-quality standards mean that the blinds are working smoothly. They do not have a string, which may create the impression of disorder. VELUX offers a wide color range of the horizontal blinds.
VELUX roller blinds RFL
Reduce the sunlight to ensure better comfort and protecting artwork, furniture and decorative elements from fading. VELUX roller blinds can be set up in minutes and they are available in a wide range of colors and patterns.
VELUX folded blinds FHL
VELUX folded blinds will create a special mood in the room. The desired lighting can be provided by the special VELUX technology, which allows placing the folded blinds at any desired state easily and quickly. The folded blinds are available in 37 soft shades. The modern construction consists mainly of aluminium parts.
VELUX insect net ZIL
VELUX insect nets prevent insects from entering the room. Have a dinner with your family by an open window. Or enjoy undisturbed sleep by an open window. Ideal for any VELUX skylight and they can be combined with all types of blinds and shutters. They are easy to install, open, and close. Side controls and rubber sealing strip keeps the insect net taut ensuring maximum protection against insects.
VELUX roller shutters SML/SSL
VELUX roller shutters help to ensure the desired lighting from bright sunlight to complete darkness. By installing the VELUX roller shutters, you get also the best protection against heat from the sun. If the shutters are not lowered, they are not visible from the inside of the room.
VELUX sunshades MHL
VELUX sunshades provide effective protection from the heat, as the sunlight does not reach the glass and your room will remain pleasantly cool. The best part is that the sunshade does not obscure the view and you can still see everything behind the window. Sunshade blinds are perfect for any type of VELUX roof windows and are easily installed from inside.