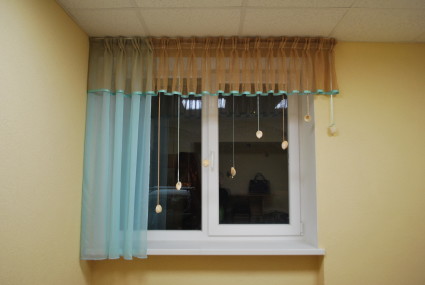 Curtains for schools and preschools – the second home to children.
Curtains help to create comfortable and snug feeling in school or preschool premises. They help to achieve a pleasant atmosphere, where kids will enjoy staying. The curtains are also functional – depending on the placement of the classrooms, the sunshine can be too bright during the school hours.
Selection of curtains for schools and preschools
In the spaces, where children spend their time, curtains should be significantly above the floor level, if there are concerns that the children could intentionally or accidentally damage or tear them.
The curtains can reach to the windowsill or even be just a decorative line along the top and the sides of the window box, leaving the long curtains at the very sides of the walls, where they are further out of reach of the children.
There are many various options of how to prepare such solutions of window decoration, to provide not only elegance and style, but also the required functionality.
For example, a rather appealing version is the combination of Roman curtains or Austrian curtains with classic curtains added just at the very sides. Roman curtains serve similar functions as blinds – if they are made from thicker, less light-transmissive fabric, they can be used to block out the sunlight or curious looks, if left at the necessary height.
Roman curtains look as decorative and cosy as classic curtains, but they take up less space and are more convenient in use, if you are looking to avoid excessively bright or hot sunshine. The case with classic curtains is similar.
Design of curtains for schools and preschools
Our designer will help you choose the most suitable design, colour and combinations of types of curtains for making your working environment better and cosier. Contact us to arrange a meeting and discuss details of production of curtains.
We provide design services, measuring, production, installation, as well as cleaning and repairs, if necessary.