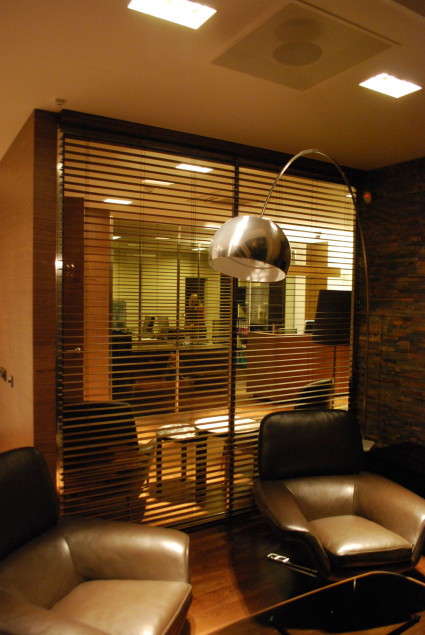 Closer to nature – wooden blinds for natural and cosy interior
 Wooden blinds create a sense of stability, homeliness, elegance and sophisticated style. Wood is rustic and warm, but the color of the wood is very calming. By installing wooden blinds in your home, you will create a harmonious feeling of being closer to nature.
Wooden blinds are the selection of creative, active, ecologically minded and modern personalities.
Practical, simple, elegant look that fits any interior
Horizontal wooden blinds are a perfect match for office and living spaces - living room, home office, kitchen, hall, bathroom etc.
Wooden blinds in the office will create an air of stability, homeliness and sophisticated taste and elegance.
.Also in the living room, wooden blinds will be an elegant, sophisticated and fresh addition to the interior.
In the kitchen wooden blinds will bring in cosiness - it will become a place to return, to cook and dine and the kitchen will become the heart of the home.
Wooden blinds design options
We offer wooden blinds with narrow (25mm) and wide (50mm) strips in a variety of natural wooden colors. Consequently, these blinds can be successfully matched with the colour of the furniture and the walls.

Wooden blind dimensions:
for 50mm wide strips the maximum width of the blinds is 2.45m, height - 2.50m;
for 25mm wide strips the maximum width of the blinds is 1.60m, height - 1.80m;
Fitting of wooden blinds
Wooden blinds can be fitted in the window box, to the fall and to the ceiling.
Horizontal wooden blinds are easy to raise and the angle of the light can be changed to bringing in the maximum amount of sunlight without any discomfort as the blinds will protect from direct glare.
Advantages of horizontal wooden blinds
Without reducing the amount of light in the room, you may look out through the closed blinds, but no direct sunlight will enter the room.
Wooden blinds look simple and elegant, but they can be supplemented with thin curtains for even cosier atmosphere in the room.
These blinds are more modern, more beautiful and more elegant, and also more resistant to deformation than the horizontal aluminium blinds, but just as functional and easy-to-use as aluminium blinds.
They are easy to clean: just go over them when dusting the rest of the house.