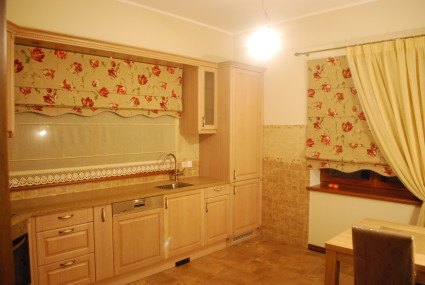 A kitchen is the heart of any home.
Meals are cooked here for the family, friends and other guests. You can make it even more welcoming, while still hiding from unwanted looks of passers-by and safeguarding your privacy.
Curtain design opens very wide variety of opportunities for the selection of fabrics, as well as creating your own statement of style with a special shape of curtains, valances or other curtain accessories.
Various considerations lead our designer to recommending you the following types of kitchen curtain fabrics:
easy to wash and clean, as it is required more frequently than for curtains in other rooms;
thin curtain fabrics with maximum light transparency to make cooking even more enjoyable.
We offer a wide range of kitchen curtain designs and solutions
Roman curtains, serving 2 functions at once – they are decorative and functional at the same time
Austrian curtains are also decorative and functional,
Long curtains are mostly seen in dining areas and are made from the same fabric, as Roman blinds in the kitchen area.
"The kitchen and dining area require two types of curtains – for a daylight and for the evening. It could be two different Roman blinds – a transparent and non-transparent one (one hidden by the other). A thin Roman blind can also be combined with a black-out roll-up blind or a cassette roll-up blind, as these spaces due to their function require especially harmonised and cosy atmosphere".
Designer Kristine Martinsone
One of the best solutions - Roman curtains
They take up less space and look as charming and elegant as any decorative curtains.
Roman curtains allow for virtually limitless options in the selection of fabrics; therefore, it is worth taking into account that they can be made from an easycare fabric, which will considerably help to keep your kitchen spotless.
Classic kitchen curtains
If Roman curtains do not appeal to you, go for classic curtains from thicker or thinner fabric, designed to match your kitchen requirements, for example, by holding them down to one side or by shaping them in some particular way to match your interior.
Roman blinds
Along with the kitchen curtains you can also install Roman blinds. They are simple in their daily use and care. If the kitchen area is joined with the dining area, long, sewn curtains made from the same fabric as the kitchen curtains – Roman blinds – will look great in the dining area, tying the spaces together with a common visual effect.
Kitchen merged with the dining area
Curtains in a kitchen merged with the living or dining area can be even floor length, if the window is located further away from the cooking area. Such room with several windows allows for flawless matching of the curtain design leading to peaceful harmony. Dining area serves not only as a place for common meals and cordial conversations. An interior where all the requirements for ensuring a visual and mental balance are met can greatly contribute to creating the atmosphere that you are willing to see and feel in your home.