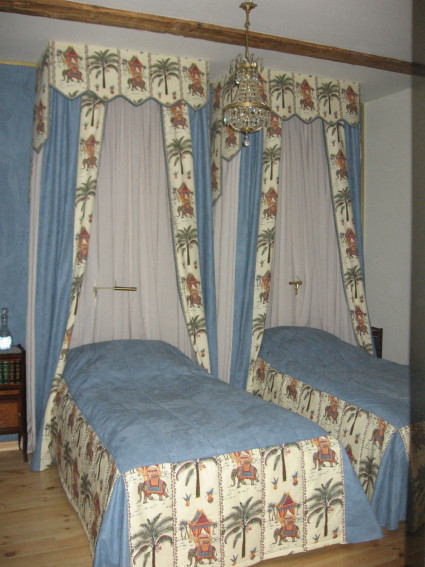 Canopy – beautiful and romantic accent with a practical function.
Canopies can be used in a very diverse methods of application. It can be used to create romantic feel in the bedroom, to separate two zones of a single room, as well as in the kids room for both – practical and decorative causes.
Canopy in bedroom
Canopy by definition is supposed to be beautiful and luxurious. Canopies have been know since the Medieval ages, when they served as a beautiful accessory used by royals to render interiors of their bedrooms even more sumptuous and elaborate. Canopies are made from light or thicker curtain fabrics. Canopy can be hung over a bed, but also in other places, where such romantic touch of decorative textile is required. Canopy creates a feel of secrecy to the room and hides it from the rest of space. Thicker or thinner fabric will create romantic lighting in the bed if, for example, light will be on in the rest of the space. When the canopy will be produced from thin fabric and made to cover the entire bed, it will provide excellent protection from insects if you prefer sleeping by open windows in summer time.
Canopy for separation of several zones in the room
Canopy can be used to separate various zones in the room, for example, in the summer terrace, where evening relaxation zone can be thus delimited. Another of its functions is based on its ability to provide protection from disturbing insects, like flees or mosquitoes, if you enjoy spending your time on a terrace. In the stylish and popular studio type interiors canopy can provide a simple and elegant solution for delimitation of separate areas of the room, like, dining area from sleeping area, etc.
Canopy in the kids room
In the kids room canopy can provide great protection from excessively bright light, direct sun rays, various noises and it even helps to retain warmth in the bed. Moreover, it also looks visually appealing – canopy makes bed feel cozier, kind of dresses it in special, nice outfit.
Light, semitransparent fabric is recommended for the kids rooms, since it ensures better air circulation. A canopy made from light fabric, hung all around the bed will also protect the kids from inspect bites while they sleep.
Girls will certainly enjoy a canopy, as it will allow for them to impersonate princesses, which would make their stay in the room much more enjoyable.
Design options for canopies
Canopies are available in a wide variety of forms and shapes, and nowadays we can install them not only in spacious rooms, but also adjust to smaller spaces. Canopies usually are matched to curtains, however colours of curtains and canopies can be different, thus making interior more interesting. Matching of canopy with bedspread and decorative pillows usually looks very appealing.
Specifics of canopies require for their inside and outside to be trimmed equally fine, since they will be visible from both sides.
Contact our designer to obtain wider information on design options of canopies.
We will help you to create the best design and to select the most suitable fabric, will produce and install the canopy in your room.