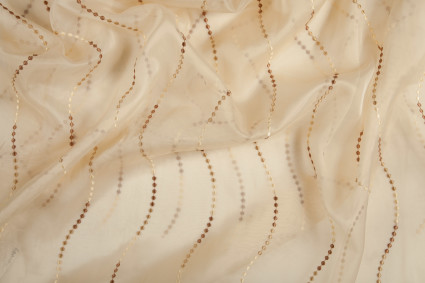 Thin day-time curtain fabrics.
We offer a very broad range of thin day curtain fabrics – various shades, materials, plain or printed.
Day-time curtain fabrics
Majority of day-time curtain fabrics contain polyester with admixture of various natural materials. Width of thin curtain fabrics ranges from 1.4 to 3.2 meters. Even if you like any particular fabric, but its width is not suited for your window, we will help you find creative and elegant solution.
The day-time curtain fabric can be decorated with various applications and embroidery.
Tulle curtain fabrics
By their structure these fabrics are lithe and loose, tulle falls in gentle folds, the light transmission is about 80%. Tulle can also be used for making of lambrecens.
Organza curtain fabrics
Organza fabric is not as gentle as tulle, folds are not as subtle. Unlike the tulle, organza is not suitable for making of lambrecens, however it has a very high light transmission rate. Organza fabrics are available both – glossy and mat. An extensive range of plain colours, as well as wide selection of printed and embroidered organza fabrics. Light transmission rate about 90%.
Linen and linen type day curtain fabrics
These are distinguished from other thin curtains by their peculiar linen structure. Linen fabric feels soft and loose. Light transmission rate of linen curtain fabrics is slightly lower that that of tulle or organza – about 70%.
Silk day curtains
Fine and elegant curtain fabric. In order for it to be able to block rays of sun and serve longer, the lining is recommended along with dry cleaning.
Individual curtain design
Within the process of designing of the curtains we will visit you and test samples of fabrics in the space, where your new curtains are planned. We usually combine the thin day curtain fabrics with blinds or thick curtains, and also we think about the best fixtures and opening mechanisms.
Our aim is to consider every detail in order to arrive at the best result to be enjoyed by you for a long time.