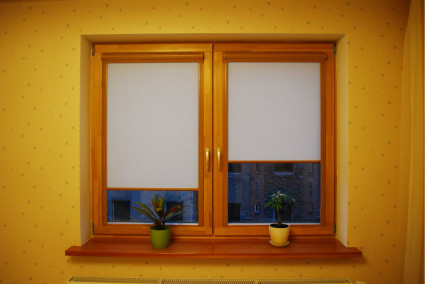 Roller cassette blinds are intended for installation on wood, plastic and aluminium double pane windows and doors. Roller cassette blinds have a decorative and practical purpose, they can be light-reflecting or with different levels of light permeability, regulating the amount of light in the room.
Rooms suitable for roller cassette blinds
Roller cassette blinds can be used in almost any room - living room, bedroom, office etc. They will bring the sense of ease and freedom to the windows if supplemented with decorative thin - transparent or semi-transparent - curtains.
Double pane window roller cassette blinds can be matched with the interior to create a harmonious and pleasant cosiness. Cassette roller blinds can be matched with existing curtains or an interesting combination of roller blinds and curtains may be created bringing something completely new to the room. They give fine elegance and carefully arranged look to your living space or office.
Cassette roller blinds design options
Cassette roller blinds are available in white, brown, silver, light wood, as well as other colors, and you can also create them from fabrics with drawings or patterns. Since the fabric is not touched, it always stays clean and intact. Thus, the roller cassette blinds serve a very long time.
Roller blinds are available in a great selection of colors and sizes, they will look great in a new and modern office, as well as cosy and comfortable living spaces.
Fitting of roller cassette blinds
Roller cassette blinds are fitted to each window pane separately. The roller cassette blinds are fitted and fixed to the window frame by the edge, therefore, they do not obstruct the window and leave the windowsill free and it is possible to ventilate the rooms, freely open and close the window, even if the blinds are shut.
Roller cassette blinds are opened and shut by a chain, which may be fitted at any side.