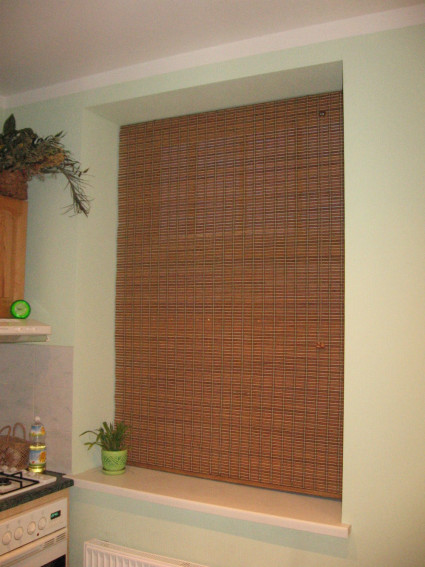 Oriental atmosphere in your home or office
Bamboo or Oriental blinds create soft, ambient light in the room, especially when the sun is shining, forming a beautiful, exotic lacework of light and shadow on the walls and floors.
Bamboo blinds are made from natural materials, so they fit so well in the homes and offices that find ecology important.
Bamboo blinds are easy to dry clean - with a duster or vacuum cleaner, which is the best suited for cleaning this type of blinds.
There are two types of bamboo blinds:
drawing blinds (fold up similarly to Roman blinds),
roller blinds (roll up like any roller blinds).
Bamboo blind design
Bamboo blinds or Oriental roller blinds are manufactured from natural materials - bamboo or paper fibre. The maximum width of bamboo blinds is up to 2.4m while the paper blinds can be 1.76 to 1.96m wide.
Bamboo blinds have a variety of tones to choose from to match them to your interior.
Bamboo blinds are different from each other in that they are made of a finer or coarser slated, which are weaved together in various interesting patterns.
If you want to install bamboo blinds, our designer will make precise measurements and suggest the most suitable bamboo blind option.
Roll-up Oriental roller blinds
Roller bamboo blinds can be fitted in the window box, to the fall and to the ceiling. Depending on the width of the weave, the width may differ a little, therefore, it is better to install these blinds above the window box - at the wall or the ceiling. The lifting and lowering mechanisms are located only to the right while their height can be unlimited.
Folded bamboo blinds
Folded bamboo blinds can be up to 1.5m wide and it is recommended that the total area of the blind does not exceed 3m2. Also, the folded bamboo blinds should be installed on the wall or the ceiling.
The raising and lowering mechanism of the folded bamboo blinds can be both on the right and the left side.