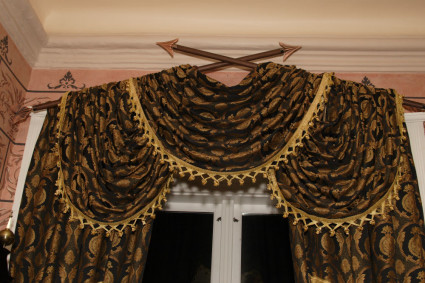 Wide range of fixtures available for your curtains – curtain poles, tracks, sliding panel systems.
Curtain fixtures systems form an integral part of every curtain design. They will not only
support the functionality of your curtains, but also work as an excellent accessory to any design. We offer a really wide range of curtain fixtures. Our designer will help you in selection of the ones best suited for your preferred design of curtains and interior of the room. We will perform technically correct installation of your chosen fixtures.
Curtain poles
Decorative curtain poles are used to serve as one of the crucial items in design of any curtains. Decorative poles will be visible regardless of whether curtains will be open or closed. A very wide range of colours and styles available will allow for matching every style of curtains.
Curtain poles can also be further advanced by application of various design elements:
 decorative finials;
 brackets;
 hold-backs.
Curtain tracks
Curtain tracks allow for curtain fixtures to be made invisible, as the curtains are attached to
the rail, over which the hooks are sliding for closing or opening of the curtains. The curtain track will be visible only while the curtains are open, but even that can be hidden, if decorative lambrecken is used.
Benefits of curtain tracks:
 simple use;
 can be placed in one or several lines as the need may be;
 almost any length can be chosen (as they are very easy to extend);
 considering the design of the curtains you can choose metal or plastic curtain tracks.
Sliding panel systems of curtains
Sliding panel systems of curtains are intended for panels of curtains. Such type of curtain poles is a very simple one – the sliding curtains system is built from sliding mechanisms, to which panel curtains are fastened and which are glided to rights and left. Sliding curtain systems with panels of curtains usually are used on large, wide walls with low windows.
Our designer will help you to select the curtain poles and accessories best matching your intended design of curtains, interior and functionality. We will also ensure proper installation of these.