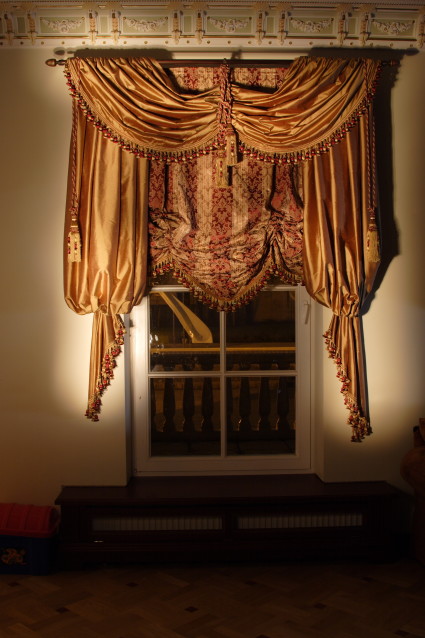 Elegant classic style blinds for romantic mood in the room.
Similar to Roman blinds, Austrian blinds are raised upwards, but their main feature is the fact they are folded from the bottom, keeping the upper part smooth. Austrian blinds look very romantic and ornamental.
Fabric choice for Austrian blinds
Austrian blinds are made from curtain fabric, thus, the color, pattern and style options are almost unlimited. They can be made both from the think (day) curtain fabric, such as tulle or organza, or from any thick (night) curtain fabric.
Also, depending on your preference and the choice of fabric, it is possible to set the distance between the folds - will they be finer and closer together or further away. The choice of folding will change the design of the blinds.
Lifting mechanism for Austrian blinds
Austrian blinds consist of a lifting mechanism and the blinds itself, which is attached to the mechanism. Austrian blinds may be raised or lowered with a decorative chain and can be fixed at any height, regulating the amount of light in the room. Note that the Austrian blinds may be raised to a certain height, but not completely.