Decorative cushions are a practical highlight to the interior which may completely change the design of the room. In addition, decorative cushions are an interior element that can be easily replaced bringing something fresh into the room design.
Basis - high quality cushion
The first task is to purchase high-quality cushions, which won't lose their shape after a few months of use.
Silicone pellet cushions are the most reliable as decorative cushions - they won't lose their shape, won't collect dust mites, they are easily washable and will look great after washing.
Traditional feather-stuffed cushions are also great and will suit those who prefer natural cushion stuffing materials. These cushions only require an occasional fluff and they will return to their initial perfect shape.
Bamboo fibre cushions - this natural material will excellently keep the shape and the look of the decorative cushions .
Woll stuffed cushions are another excellent choice, as they have a very long life, but for thouse who suffer from allergies it is better to keep away from them.
There is no one magic formula. As always, quality cushions will be more expensive, serve you longer and better, while the cheaper options will lose their shape and will require replacement sooner.
Decorative cushions according to season
Just as the nature changes, your home can completely change its atmosphere with the change of the seasons. Imagine - you can simply switch the covers of your high-quality cushions and the interior and mood of your home will instantly change. In winter, you may want calmer hues that will look lovely in the candlelight, creating a romantic, warm and cozy mood. While the summer can enter your home with mischievous resilience, bright colours or, on the contrary, light pastels of a summery meadow.
For this to happen, all you need is to purchase high quality cushions and purchase, make or order decorative cushion covers with invisible closure, which will let you switch them easily to achieve a different mood and will be very practical for cleaning.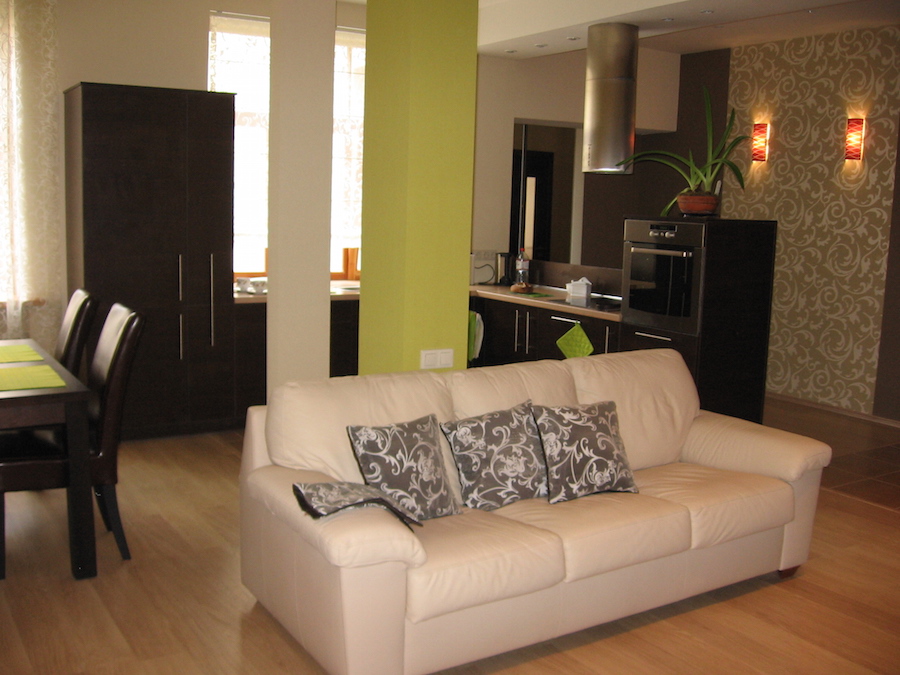 Decorative cushion fantasy flight
Even the simplest interior can be transformed with decorative cushions, therefore, skilled interior designers recommend selecting subtle furniture - gray, white, black, brown, beige etc. - so that the mood could be created with accents.
There are several ways to match the pillows to your interior.

Match the cushions and the curtains
Decorative cushions can be made from the same fabric as the curtains or the same colours can be used. Thus, it is possible to achieve a very harmonious interior of the room.

Match the colour of the cushions, but not the patterns
Select one basic shade of the cushion and match fabrics of different textures and patterns. Thus, you will achieve a great overall harmony with a little playfulness.
For example, you can choose the brown and beige colours and match the fabrics in these colours, but different patterns - plaid, stripes or polka dots, or floral motifs in these colours.

Select all leader of all cushions
Choose an expressive leader among your cushions, for example, with special fabric or colours, and only then match the colours of other cushions. These cushions may be single colour or multicoloured, but the key is to create the background for your leader.