Curtains for the dining area of your home
The dining area of your home is the place where family, friends, relatives and guests come together to enjoy each other's company. It is a place that invites you to celebrate being together.
Selection of dining room curtain style
Match the dining room curtains to the design of the surrounding rooms by selecting similar colors, patterns or materials, but remaining faithful to the individuality of this room.
There are so many options. If the dining room is combined with the living room or kitchen, use uniting elements. For example, select the thick dining room curtains from the same fabric as the Roman blinds in your kitchen and match the sheer curtains of a similar hue for contrast and elegance. Similarly, you can coordinate the dining area and living room curtains.
Elegance at the holiday table
Do you want your dining room to be unforgettable? Take a step further considering every nuance and coordinating it with the overall design. You may achieve a truly impressive result.
Just match the dining room curtains to the overall design of the room, specially tailored tablecloth and napkins, select a festive dinnerware with cutlery and create a special table decor.
All of this together will create an elegant, cosy and sophisticated atmosphere for you and your guests.
From A to Z
We will help you bring this idea to life offering a variety of solutions, where everything will be coordinated from A to Z - curtains and/or blinds and the interior of the room and overall style of the home, tablecloth and the table, your special dinnerware, curtains, interior, tailor made napkins and chairs or even chair covers for especially festive events.

Pleated blinds are a new, modern and functional way of window decoration.
Pleated blinds are a great option for people who have difficulties finding blinds or curtains for non-standard or roof windows, as well as those who can't devote too much space for window decoration due to specifics or size of the room.
Use of pleated blinds
Pleated blinds look great in almost any room - kitchen, guest room, bedroom or office. In addition, pleated blinds provide another great option for decorating roof windows, as well as other types of windows. It is great news for those who seek a space-saving blind solution for their home or office.
Pleated blinds design options
The fabrics used for creating pleated blinds are very easy to maintain and another advantage is water resistance. Likewise, most of the fabrics offered are fire resistent. In addition, these fabrics are availible in a variety of colors and thicknesses (with varied light transmittance), including reflective and dimming blinds, which will be perfect for roof windows in a bedroom. They will cover the whole necessary area, serving both a practical and decorative purpose.
Technical solutions and options for pleated blinds
Pleated blinds are easy to attach to the window frames and their compactness allows for maximum visibility through the glass. They are perfect for both vertical and inclined planes. In addition, the aperture can be adjusted not only from the bottom to the top, but also vice versa.
Pleated blinds may be opened from the bottom to the top and from the top to the bottom.
The construction of a pleated blind includes two aluminium profiles between which the pleated fabric is fixed. During raising and lowering, the fabric is folded like an accordion and takes up about 5cm when fully folded.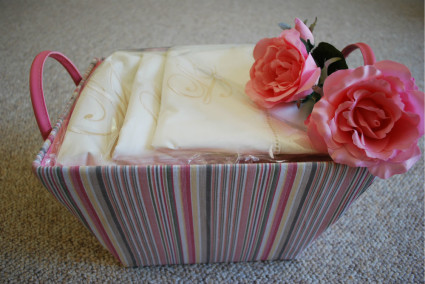 Personalised towels, table napkins or other textile articles can make a wonderful gift for a wedding or a house warming, while personalised table napkins with the logo of your restaurant will show elegance and sophistication.
Choose your own embroidery or let us help you select the embroidery design.
We embroider:
logos,
inscriptions,
letters, monograms,
It is possible to work on:
tablecloths,
curtains,
towels,
table napkins,
pillows,
other textile products.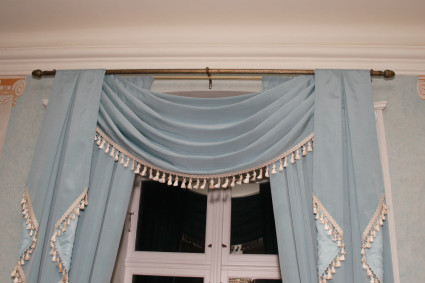 Pelmets, valances and lambrequins can be, quite literally, the crowning glory of a curtain arangement. Positioned at the top of the window, they fit neatly over curtain headings, entirely concealing from sight any tracks or fitting mechanism.Pelmets are usually made of wood or a stiffening material such as buckram. Usually they are covered in fabric, but wooden ones may be painted. Valances are made entirely of fabric (which may be lined and interlined).
Lambrequins, which are rather like elaborate, extended pelmets reaching far down each side of the window, have to be made of wood to retain their boxed shape; seti n front of the curtains, they enclose a large proportion of the window itself. All three have the effect of defining the curtain arrangement and linking it with the architectural lines of the window. As well as serving a visual purpose, they can help to eliminate draughts.
Valences create a softer effect than pelmets. The heading can be any of those already described for curtains – perhaps a French pleat heading for tall, elegant Windows, or a softer, gathered heading for less formal arrangements. A valance can be attached to the edge of a timber board positioned like a shelf above the curtain track: indeed, the track is often fitted to the underside of this board.
Alternatively, the valance may be hung from a special valance track hooded onto the main curtain track. Slot or casement headings can be fitted over a curved valance track, specially designed to Project forward from the curtain.
Pelmets are especially useful as a window that has a distinctive shape. For example, Gothic Windows take shaped pelmets very vell. Not least of the advantages of a shaped pelmet or valance is that it allows you to conceal a straight curtain track to create a more interesting effect.
Lambrequins are upper decorative part of curtains. Lambrequins perform a purely decorative function. Lambrequins are stationary and designed to embellish your curtains, make them look luxurious, or often lambrequins attribute to final appearance and sense of completeness. Lambrequins can be shaped both hard and straight, they can be with various cuts, as well as soft and falling in ruffles.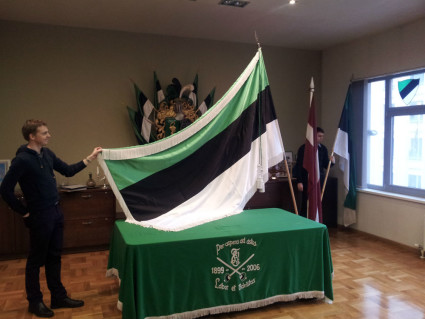 We sew various types of flags in different sizes - national flags, corporation, company, municipality, city and organisation flags in any size.
Depending on the application of the flag we offer different types of fabrics. For example, fabrics suitable only for indoor use, as well as special moisture, frost and sunlight resistant fabrics that are suitable for outdoor use.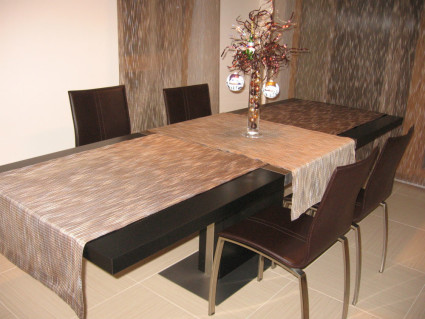 A tablecloth is an elegant addition to the interior design, a sign of good taste and knowledge.
Tablecloth design possibilities are limitless - from different natural materials to synthetic fabrics and various combinations.
Types of tablecloths
Professional tablecloths
These are the tablecloths that are suitable to various public places - restaurants, cafes, hotels, etc.
In the sewing of professional tablecloths, we use special fabric (with or without teflon coating) intended for sewing tablecloths and napkins. These tablecloths are intended for frequent heat treatment, they are non-creasing, easy-to-iron and retain their shape, size and visual appearance even after repeated washing.
Decorative tablecloths
Tablecloths for decorating the table, buffet or the like. These may be sewn from a wide range of fabrics, using and combining decorative elements and material combinations.
Order a tablecloth for your celebration, which will bring elegance, luxury and harmony in your home.  
Linen tablecloths
Natural, elegant, a little noble and unusual material which has not lost its relevance over the years.
Linen tablecloths should not be machine-dried, but they may be slightly dampened with water with some added laundry softener to make them softer.
It must be taken into account that any linen product - tablecloth, curtain, napkins, covers etc. - will shrink a little when washed.
Mixture of styles
A fashion trend that currently dominates the interior design.
The contrasting of rough textile textures with subtle, ethereal fabric, for example, linen with taffeta or velvet with organza. The tablecloth may have a heavy edges or, on the contrary, the central part of the tablecloth may be emphasised.
Such fabric combinations may be supplemented with pearl embroidery, ornamental lace, ribbons, flitters, fabric flowers, fur bands etc.
Other tablecloth solutions
Crocheted ornamental tablecloth edges will look great, as hand work adds uniqueness and originality to any look.
Will we put our ingenuity into our work and will not shy away from experiments, for example, we may add marine stones hanging on threads of different length to the side seam of a transparent and slippery organza tablecloth as weights.
The fringe along the edge of the tablecloth may be in various lengths, even covering the floor.
Wrinkled effect is just as topical in clothing and in tablecloths, curtains, pillows and other home textiles.
The tablecloth as a complementary element to your interior will help to creat a harmonious interplay with other textiles in the room.
Tablecloth prices depend on the size, the selected fabric or fabric combinations and any additional decorative elements.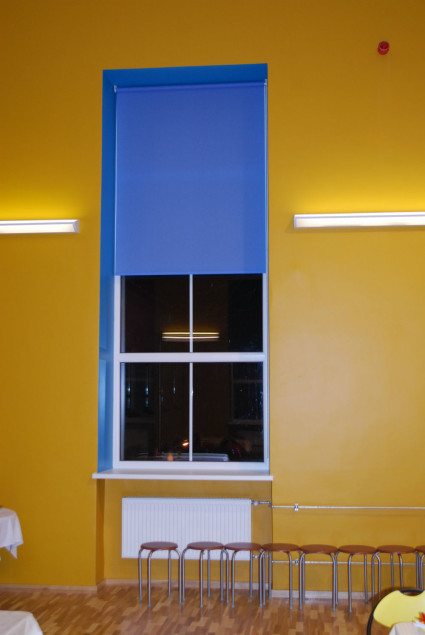 We provide technologically correct installation of any blinds ordered from us.
Our expert will take care of all nuances related to installing blinds.
We can only provide technologically correct installation of the blinds purchased from us. Why? Because before ordering the blinds our experts have conducted site survey and assessment to make sure the proposed solution fits the specific situation.
Benefits:
Accuracy and quality.
Reliability and safety.
You won't have to look for special equipment and aids, which is usually associated with additional time and costs.
The blinds will be implemented by an employee, who is specialised in this area and is aware of some nuances which may not be know by, for example, repairers.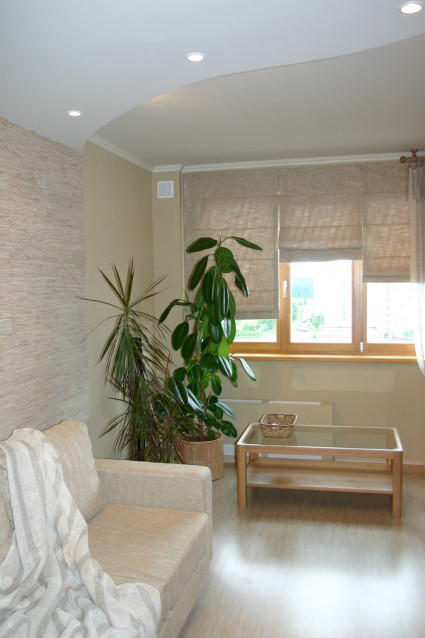 Do you want to give the space a breath of fresh air and new life?
Our answer is a new interior. We provide full and partial interior design services, for example, retaining the furniture and matching and renewing the remaining interior or retaining any other elements of the room.
Interior design services include:
ceiling and wall colors (paint, wallpaper or a combination thereof),
selection of flooring (wooden boards, parquet, linoleum, laminate, tiles, etc.),
layout of electrical equipment and lighting objects,
selection of cabinets and upholstered furniture,
window design - curtains, blinds,
interior textile,
selection of accessories.
Design sketches
We provide hand-drawn design - each of our sketches is exclusive, unique and one of the kinds. Upon your request we can also create a 3D visualisation.
Author supervision
We provide author supervision in all our design sites by participating in all processes.
Project deadline
In order to develop the design project two weeks are required, after he coordination, everything depends of your personnel - how quickly will they work and how soon can you provide the materials.
Designer's experience
Designer's education – higher, degree in art teaching; various interior design courses, as well as almost 15 years of practical experience.
The most significant design work – several private interiors, advertising installations and exhibition stands.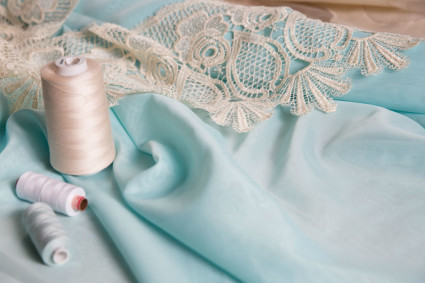 If a cat has clawed through your home curtains or someone has accidentally damaged the curtains in your office, hotel or restaurant, contact us to learn more about curtain repair options.
Using creativity and professional equipment often it is possible to fix the curtains in such a way that no one will notice that they have ever been damaged.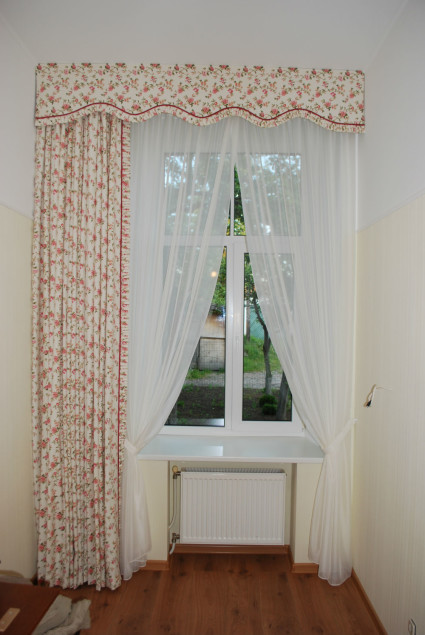 We provide curtain cleaning according to the curtain style and fabric type.
For each type of fabric and curtain style has its own type of cleaning:
Many curtains are machine washable in a gentle washing mode and in a temperature suitable to the fabric. However, the size of the curtain is important, as sometimes it is impossible to fit in a washing machine, even though they are machine washable.
Other curtain fabrics may only be washed with hand and a special detergent.
Others may only be dry cleaned, while still others must be cleaned in a special technique and with special cleaning agents.
If you're not sure how to clean your curtains, contact our specialists.
We provide full curtain cleaning services
We will remove the curtain
We will clean the curtain
We will install the curtain back
Trust the curtain cleaning to, if the curtains are large or complex, as an error due to ignorance may completely damage the curtains.
We also provide valance, canopy, decorative chair and bed cover cleaning.
The price of the curtain cleaning depends on the the size, the type of fabric and the appropriate cleaning technique.